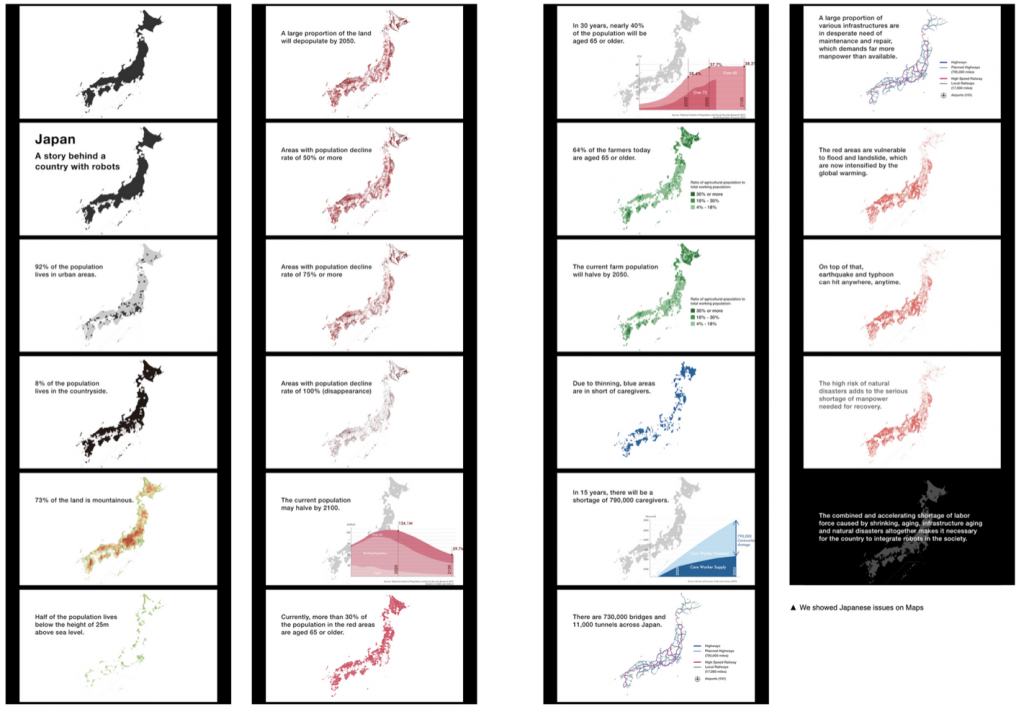 「Countryside: The Future」展は、レム・コールハース率いるオランダ・ロッテルダムの設計事務所OMA / AMOがキュレーションを務め、2020年〜2021年にかけてNYグッケンハイム美術館で開催された展覧会。
この展覧会では、これまで様々な理論やリサーチが展開されてきた「都市」ではなく、それ以外の見過ごされてきたエリアを、よりラディカルな変化が起こっている場所である「カントリーサイド」として着目することで、未来への示唆と問題提起を提示するという趣旨のもと、リサーチ・展示が行われた。小林研究室では、太田佳代子氏と共に日本セクションのためのリサーチなどを担当。 リサーチでは、統計や政府の試算、各省庁へのインタビューから、日本の「カントリーサイド」を急激な高齢化や人口減少、それに伴う労働力減少などの影響が大きなエリアとして定義した。またこれらの危機に対する、政府推進の計画の一つがロボット化であることに着目し、福島ロボットテストフィールドの視察・レポート等も行っている。展覧会では、グラフィックと動画、実物のロボットの展示が行われ、また、小林によるテキストが書物「Countryside, A Report」に収録されている。
Countryside, The Future is an exhibition curated by Rem Koolhaas and AMO, the think tank of the Office for Metropolitan Architecture (OMA), at the Guggenheim Museum In 2020.
This exhibition was focused on "countryside", as overlooked areas where radical changes are taking, compared to the "city" where various theories and research have been developed so far, for the purpose of raising future questions. And Kobayashi Lab was in charge of the Japan section. In the research, Japan's "countryside" was defined as areas on the verge of disappearing due to rapid aging and population decline, based on statistics, government estimates, and interviews with various ministries and agencies. Focusing on the fact that one of the government's plans for these crises is robotization, we visited and reported on the Fukushima Robot Test Field as a model of the area where people disappeared. At the exhibition, graphics, videos, and real robots were exhibited, and the text was included in the book "Countryside, A Report".
click here for more information
https://www.notion.so/COUNTRYSIDE-The-FUTURE-ef6d6e66d32743bc905e6c0fcb4f95a9